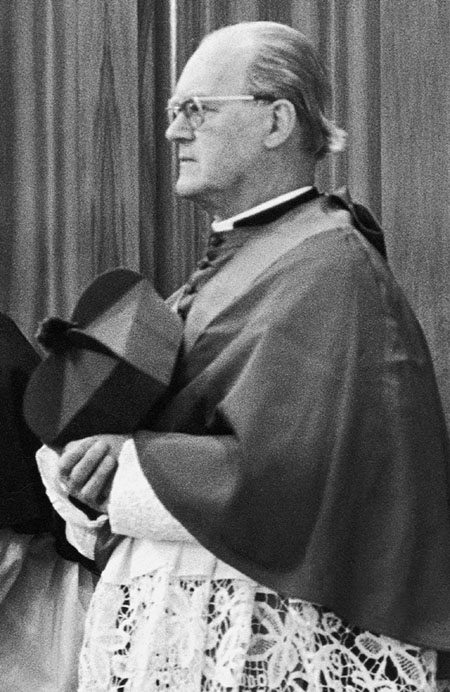 Prelate
Franz Wasner
Prelate Franz Wasner was born on December 28th, 1905, in Feldkirchen, a small farming community in Upper Austria. After completing his studies in theology at the University of Innsbruck, he was ordained a priest on March 17th, 1929, and served in the small parish of Mayrhofen in Tyrol for one year. Then he went to Rome to study ecclesiastical law and gratuated summa cum laude as "Dr jur can" in 1934.
Wasner returned to Salzburg where he met Georg von Trapp. This acquaintance grew into a close friendship and Father Wasner accompanied the Trapp family as director and conductor on all their concert tours. During a tour in Australia and New Zealand, he decided to do missionary work on the Fiji Islands until 1966. He returned again to Salzburg, but only for a short time. The Vatican called on him to become a rector of the "Anima", the home of German-speaking theology students in Rome, which enjoyed great influx under Prelate Wasner's leadership of more than 15 years.
Prelate Wasner received many honors from several countries as recognition for his devoted service. He passed away in June 1992 in Salzburg.
In 1998, on the occasion of the Broadway Musical Revival of The Sound of Music, Arno Gasteiger, vice governor of Salzburg, presented the remaining six von Trapp children with the state's highest civilian decoration, the Golden Decoration of Honour, in New York. Gasteiger also presented medals to seven actors who portrayed the von Trapp family children in the movie.